For Kings and Queens (like you and I)
One beautiful crisp and clear day (you know the kind where you can see for miles, the sun is shining, the sky is filled with fluffy clouds, and it's just great to be alive), I was driving along Prince William Parkway on my way to the mall. As I drove around a large bend (not far from where my commercial photography studio is today) between a warehouse shopping plaza and a neighborhood, I saw it—a snow-white Rolls Royce Silver Cloud. It contrasted the other cars around me making like a skyscraper in a small town.
To that point, I have never been a fan of old cars, but something caught me that day that changed my view for the rest of my life. Maybe, my sub-conscience was tired of seeing other types of average workhorse cars all the time. When I saw this magnificent beauty, it caught me off-guard. It's like, the automotive designers clearly had a vision, something designed to make a statement that couldn't be ignored—do you think they realized how many years a design like this would perpetuate?
Several months later, my wife ran into the house and in her marvelous French accent said; "Mock, Mock! Did you see za car out front?"  I went out the front door, and there it was again. I'm not sure if it was the exact car, but it was the same model I had seen before parked across the street from the home of a bride-to-be. In a neighborhood of 1970s Cape Cod-style homes, the was certainly a sight to behold!
As it turned out, the owner and I hit it off, and he needed photos of all four of his bespoke cars for his website. Below are several photos of the various cars he's had over the years. Click or tap an image for a full-screen eye-candy view.
"Strive for perfection in everything you do. Take the best that exists and make it better. When it does not exist, design it."
—Henry Royce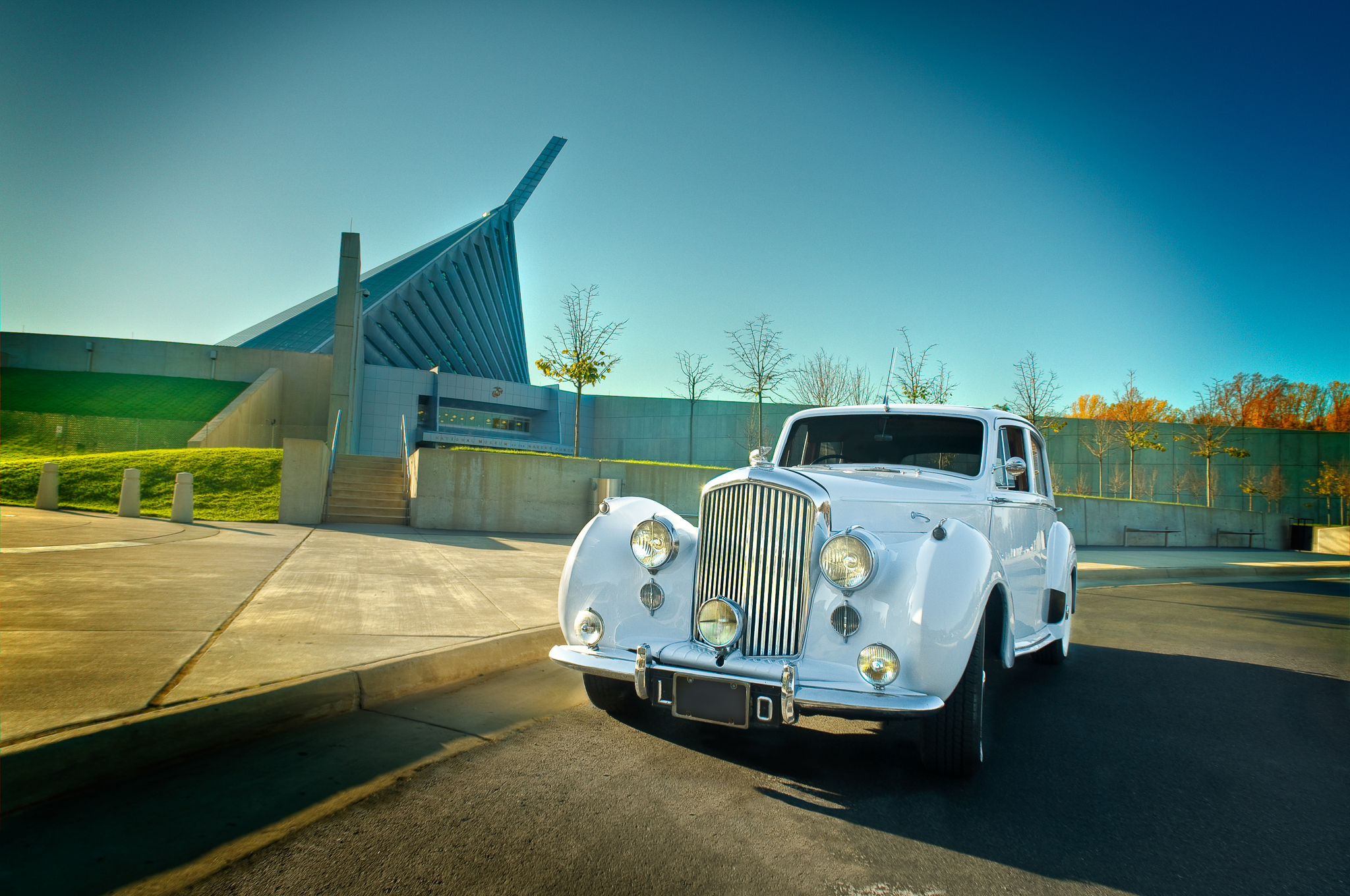 1952 Bentley in front of the National Museum of the Marine Corps.
ABOUT THE PHOTOS
This is commercial automotive photography. The purpose of this type of photography is to show the features and design of the cars to potential brides and people looking for an elegant night out in the nation's capital—so my client can make a profit. While a moody evening shot with film noir-style lighting would be truly artful—that style would not show the product very well—it would look really cool that way, but it doesn't hit the mark for this usage. These images had to communicate what the client was getting for their money.
INTERIORS
While it's possible to take a relatively good photo of the exterior of a car you want to sell to rent with a simple mobile phone, interiors are much more difficult. A studio strobe (or multiple) becomes very important because, to capture an interior properly, the exposure outside the car should be the same for the interior, and the lighting that hits the interior should be directional to bring out the texture of the seating appointments—sometimes the sun doesn't give you both.
Suppose you only point a camera at an interior and click the shutter. In that case, the cameras' exposure meter will make a proper exposure for the interior, but it will blow out the background outside of the car leaving the image looking overexposed and possibly lacking detail. Using a built-in flash will help, but it won't produce enough light, and it would be modeled light as you see in the interior car photos above.
But enough about the photography
Wouldn't prefer to just take your BFF and go for a ride? You can! In the Washington DC Metro area, you can rent Rolls-Royce and Bentley luxury cars. This page shows many of the Rolls Royce, and Bentley's I've photographed, all of which have been purchased by collectors. But you can rent a contemporary-looking Rolls Royce for a wedding or beautiful evening out from the company I shot the black interiors of; Rolls Wedding Limos.com, LLC