How to prepare for a product photography shoot (5 tips)
Planning, planning, planning
Introduction
So, you've decided to have a commercial product photographer capture beautiful images of your product. That's a feather in your cap. How you decide to prepare for the shoot can make it take longer, shorter, or make it easier—it takes planning. You could be a manufacturer, or an ETSY/Amazon seller of products for sale both online eCommerce websites and as print catalogs. Photographing your products on white is an essential step in the marketing process. This post will walk you through some of the steps we recommend:
Below are a few random photos from around the studio at Mark Gilvey Creative.
1. Project Preparation
If you are an enterprise-level company, you may have a different department for each workflow step. One person may check the final look of the photos. Another person might handle the shipping to and from the product photography studio. Another might handle one type of product vs. another. Make sure you provide all the appropriate contacts to your photographer. A single point of contact is valuable. That said, there may need to have more interaction with you or someone on your staff. to verify a product looks the way you feel it should look, so it matches your catalog.
2. Product Preparation
While it might not seem that obvious, taking an item off the shelf is not the best way to start preparing. You'll want to examine the product before shipping it off. Look for any damage; are there scratches, cloudy areas, or rough areas? Look for anything that doesn't belong on your product. Find another one. What do the seams or molds look like; are they clean or rough? Find the best version of the product you can.
3. Shot List
Make a spreadsheet that includes the following:
SKU: There should be an SKU for every version of the product. For example you have a product that comes in five different colors. Each of these colors should have its own SKU number.

Model Name: This could be a name that includes all the different versions: Keystone Faucet

Model Description: This tells what it is. If the product becomes separated from its SKU number, this is a way to identify it.

Props & Background: If you plan to have something other than white, make sure you indicate it in the spreadsheet. Your photographer might be shooting this product when you're not around.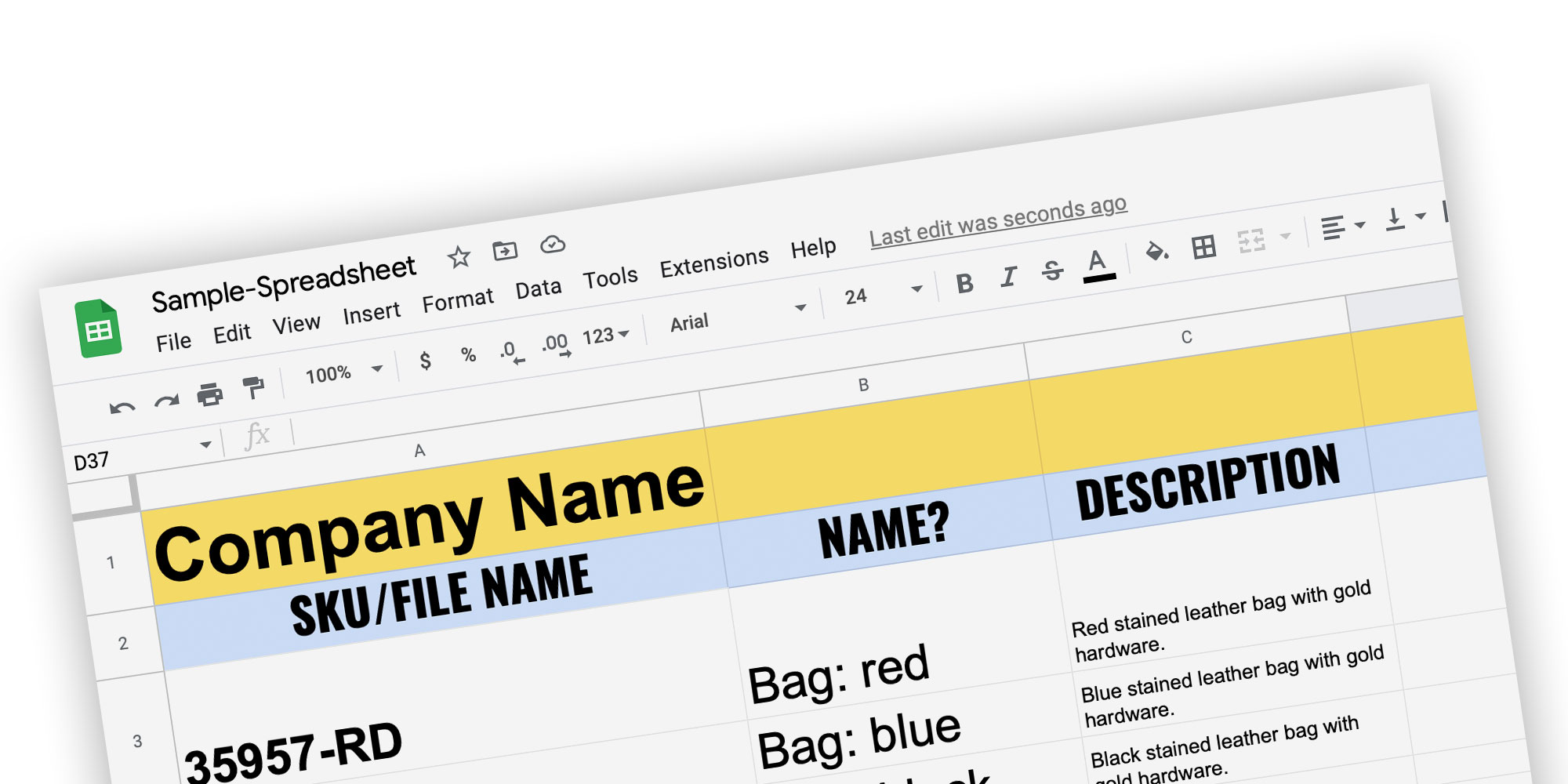 4. Props & Backgrounds
Some companies will take the photos that are on white and put them over scanned, stock, or solid background to dress them up—your photographer should provide a file that will permit this. Then there are others where the product is photographed on a background or in a setting with models and props. They are an excellent upgrade to your listing, but they can be quite expensive to produce. If you have a specific idea for a background and props, you should bring the photographer the items you want to feature your product on. You may need to furnish the background or arrange for a shoot to take place on location to achieve the desired look so you don't have to pay the photographer to do this research, but like I said, this "lifestyle" photography can get pretty pricy. Consult with your photographer on the best approach for your budget.
Below are samples of products photographed on white and dressed up with shadows, backgrounds, and environments obtained through a stock photo agency and then composited by MGC.
5. Packing and Shipping
Mark Gilvey Creative can accommodate deliveries on palettes if necessary. We have a 13-foot wide bay door that can fit large items through it. That said, you might prefer shipping boxes of products through a courier or delivering them yourself. Make sure you provide ample padding. Items will bounce against one another and can dent or scratch. Buy the appropriate padding material for the product you are shipping.
Closing
Advanced preparation can make your photoshoot run smoother, and start an open line of dialog between your team and the photographer. If you are a large enterprise, ETSY, or Amazon seller, having a workflow with your photographer will benefit both of you. For your next product photography shoot, talk to me about how to start a workflow.